It won't take long for you to meet the human family at Los Colibris Casitas. Here are just a few of us! Don't hesitate to call on us for anything you may need.
The gardens of Los Colibris Casitas are quite simply, delightful! With stone pathways winding under evergreen archways, past sculptures, and a water feature, it is a feast for many senses. The gardens, which thrive throughout our property, provide not only vibrant natural screening for each casita but also a rich and productive habitat for the many avian friends who visit us – you'll quickly learn why we've named our property Los Colibris, as is translates to The Hummingbirds. Whether you are walking to breakfast, the pool and hot tub terrace, or just relaxing on your veranda, the gardens will surround you. We're so proud of this labor of love, we've even written a book about it!
Los Colibris Casitas boasts myriad vantage points from which to take in the impressive ocean view, but many guests might argue that the best way to enjoy it is from our pool and hot tub! Centrally located on the property, the pool has a wade-in side for smaller kiddos and those looking to lounge in shallow water, and a deep end with infinity edge to soak as you look out to the horizon uninterrupted. Or perhaps you'll prefer soaking in the adjacent hot tub under a starry sky! The stone terrace that surrounds these has ample seating with loungers, umbrellas, tables, and chairs. Please Note: there is no lifeguard on duty.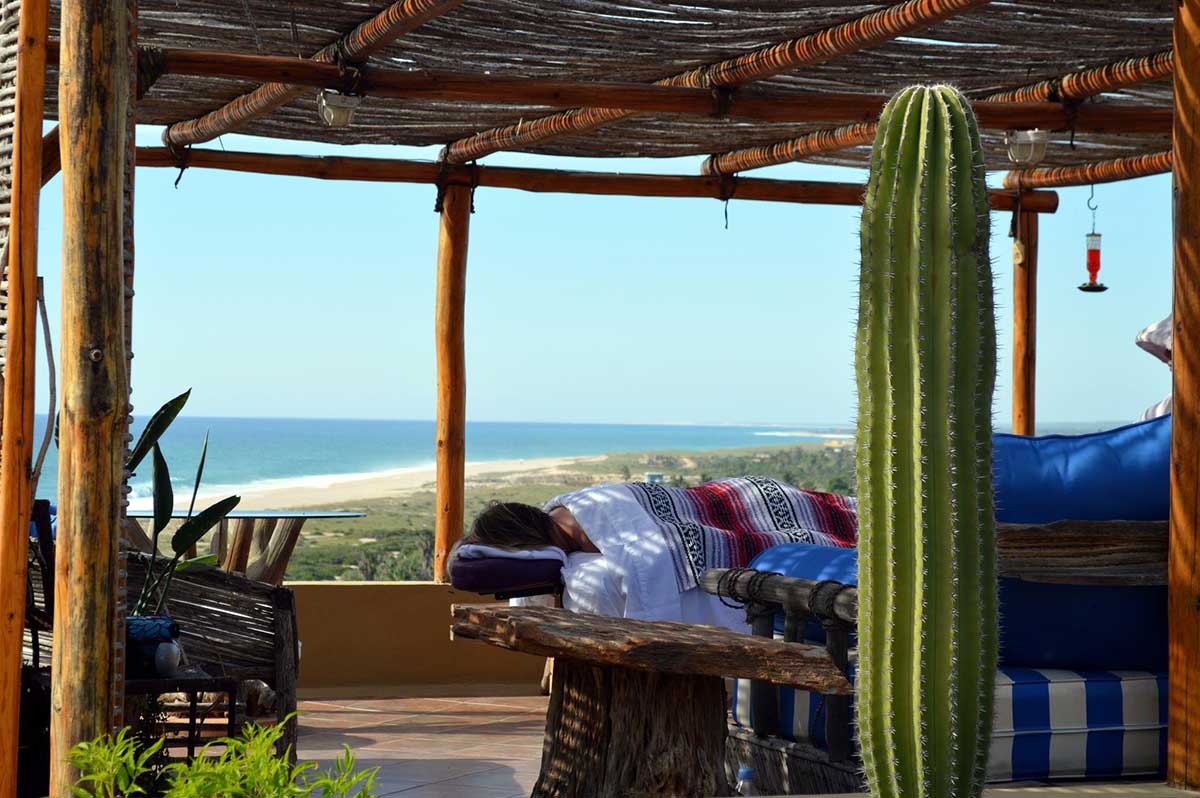 Imagine a luxurious massage with a highly trained massage therapist in the privacy of your room or rooftop terrace, with the sounds of the ocean and Baja birdlife in the background. Perhaps a margarita waiting for you nearby. We'd be delighted to arrange massages for you on the premises at your convenience. Prefer to go out? We can arrange massages and temascal (Aztec sweat lodge) sessions for you at local facilities. Just ask!
The state of Baja California Sur occupies the lower half of the Baja peninsula. The two airport options are San Jose del Cabo (SJD, typically the better-served airport) and La Paz (LAP). We are just an hour and a half from either so the choice it yours! We can arrange transfers or will provide driving directions if you have your own vehicle.
Personal Chef
Dining options around here are plentiful! Feel like being a little pampered with some meals prepared for you in your casita? We can help with that! Just let us know what you're thinking.
Transportation
We would be happy to arrange your airport transfers, trips to town, and other activities for a fee. Todos Santos does also have taxis and we can provide you with the numbers of some of our most trusted drivers. Your third option is to rent a car at the airport.
Activities + Adventures
We also own/operate Todos Santos Eco Adventures so can easily help you explore the natural, cultural, and culinary delights of Todos Santos and Baja California Sur. Contact us or click here to learn more.
Beaches + Swimming
We have 70 miles of pristine beach right in front of Los Colibris Casitas, and it is fantastic for walking! Please ask for best paths to beach. However, it is generally too dangerous to swim in the ocean here. If you want a swimming beach, we suggest the following:
Las Palmas. This is an absolutely gorgeous, undeveloped beach that is great for swimming. As with all ocean environments, you do have to be careful about rip tides. No services.
Los Cerritos. This is a great surfing beach and is suitable for surfers of all levels, including absolute beginners (we can set you up with surfing lessons if you like.) There are restaurants nearby, and vendors renting surf boards and boogie boards.
Boogie Boards. We have 2 boogie boards that you are welcome to use during your stay.
Art Galleries
Todos Santos has numerous art galleries throughout town, and we'd be happy to direct you when you are here. Artwork from local artists Jill Logan, Steve Thurston, Donna Billick, Tori Sepulveda, Wes Horn, Tami Zweig, Jerry Martin and more can be found all around Los Colibris Casitas.
Laundry
We can do that! 150 pesos/load. Please do not attempt to use any machines that you may encounter.